Floating Fountains & Pond Aeration
Add beauty and oxygen to your lake or pond with a floating fountain or bottom diffused aeration system.
Decorative & Functional Fountains
Add a visual feature to your lake while keeping it aerated. We are a distributor of floating fountains from a variety of manufacturers—and when you buy from us, you receive installation and service from factory-trained specialists.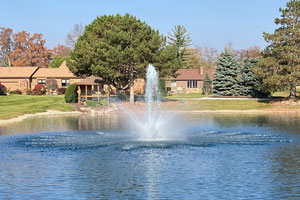 Lake Life Guard™ Aeration
Lake Life Guard™ is a bottom aeration system that utilizes compressed air and submersed diffusers, providing a low-maintenance, economical circulation solution for aerating your lake. We are distributors and offer professional installation and service for all Lake Life Guard™ systems. Various models are available for installation to improve overall pond health and reduce the risk of summer and winter fish kills.
Our professionally trained team can help you choose the right aeration solution, based on factors like:
Contact us or call for information and pricing, and request a free evaluation tailored to your lake's specific needs.